Successful Matching of Yuchai's New Non-road High-powered Engines with Finished (Automobile) Products
With the upgrading of emission standards for non-road engines, Yuchai has increased its investment in R&D. Based on the excellent performance and good adaptability of engines, Yuchai has been deeply engaged in intelligent technology development to break through the technical bottleneck of high-powered engines, and break the monopoly situation of imported brands with our hardcore national power.
After a large number of actual operation verification and calibration development, Yuchai has successfully matched a variety of high-end high-powered construction machinery and agricultural equipment engines with mainstream automobile products to continuously output new products with strong power, intelligence, and efficiency for the industry.
Successful Matching of Yuchai K16 with Pengxiang Wide-body Mining Truck
In October, Yuchai's high-end high-powered engine K16 was successfully assembled and delivered to Shandong Pengxiang Automobile Co., Ltd. (hereinafter referred to as Pengxiang). The wide-body mining truck equipped with the first prototype engine of Yuchai K16 was also trial-manufactured in Pengxiang recently.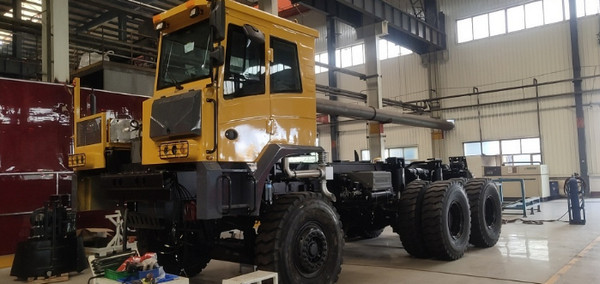 Yuchai K16 engine is integrated with the latest technical achievements in the world, with a maximum power of 775 Hp and a comprehensive level reaching the advanced level of similar products in the world. The successful launch of K16 breaks the monopoly of imported products and adds a new favorite to the domestic market of high-powered wide-body mining trucks. The engine, featured by strong power and high reliability, can be operated stably under such severe working conditions as high altitude and cold.
It is reported that in 2022, the wide-body mining truck equipped with Yuchai K16 will become the dominant model of Pengxiang.
Breakthrough in Rotary Drilling Market Segment and Interruption for the Monopoly of Imported Engines
Recently, Sunward intelligent rotary drilling trucks (SWDM160 and SWDM200) equipped with Yuchai YCA07 and YCA08 engines have passed the dynamic response and function test successfully, and will be put into batch production after passing the complete truck operation test.
This is another breakthrough for Yuchai in the market segment of rotary drilling, following the successful matching and batch production of crawler excavators and aerial work platforms.
It is reported that the rotary drilling engine has always been monopolized by the foreign brand engine. In recent years, Yuchai has been at the forefront of the industry with revolutionary new technologies, and successively launched a variety of higher-end and more intelligent engineering machinery power products to successfully match with industry leading enterprises such as Sunward with better power solutions, and break the monopoly of the imported engine.
Yuchai's successful breakthrough in the rotary drilling market segment will further accelerate the replacement of imported engines by national engines and promote domestic engines towards large-scale, high-end, and intelligence.
Assistance of Dima Equipped with Yuchai Engine in Transformation of "Turning Straw into Meat" in Nong'an
On October 20, in the yard of Longtai Agricultural Machinery Co., Ltd. in Nong'an County, Jilin, a batch of Dima cutoff corn harvester equipped with Yuchai engines and covered with red flowers were waiting for acceptance by the Nong'an County Bureau of Animal Husbandry. This is the first batch of government-led projects to purchase cutoff corn harvesters since the Jilin Provincial People's Government fully launched the construction project of "Turning Straw into Meat" and 10 million head of beef cattle in September 2021.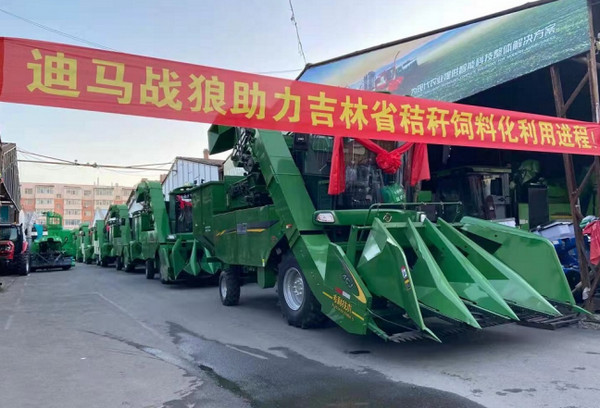 It is understood that the annual production of straw in Jilin Province can reach more than 40 million tons, which is important for farmers to increase their income and wealth and help the local economic development. The animal husbandry in Jilin Province has developed vigorously, and the demand for silage and yellow corn silage has increased accordingly. While Dima, as an earlier enterprise developing cutoff corn harvesters, has been favored by the market based on its excessive patent technology.
In recent years, Yuchai products have been unanimously recognized by Dima due to their strong power, intelligence and efficiency, and good economy. This year, almost all of Dima's cutoff corn harvesters sold in the Jilin region are equipped with Yuchai engines, and Yuchai will continue to help Dima cutoff corn harvesters to achieve greater development in 2022.
New Breakthroughs of Yuchai in the Market of YHMAC Corn Harvester
In October this year, an additional order for 1,500 units of Yuchai A07 engines was required by Hebei Yinghu Agricultural Machinery Manufacturing Co., Ltd. (hereinafter referred to as YHMAC).
In 2020, Yuchai successfully supplied 700 Yuchai engines for YHMAC, breaking through the exclusive monopoly of competitors and re-entering the YHMAC market of corn harvesters.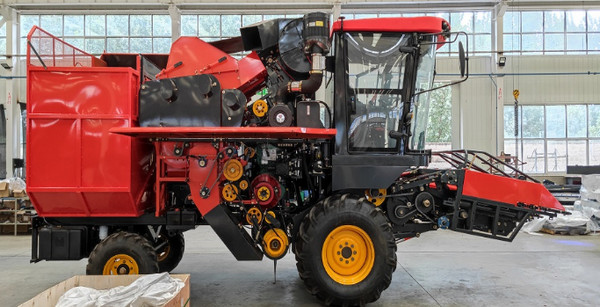 In 2021, Yuchai A07 and other series engines were successfully matched with all models of YHMAC, and even 3,800 engines were successfully matched from January to September. In the non-road CHINA IV stage, Yuchai products are more comprehensively matched with YHMAC models, laying a solid foundation for the market launch of CHINA IV products in late 2022.