Yuchai Ranks First According to the Evaluation Results of the National Enterprise Technology Center in 2021
On December 28, the 10 millionth engine of Yuchai Group and the 200 thousandth off-road engine in 2021 rolled off the assembly line, marking China's first record of 10 million units in the field of multi-cylinder diesel engines and also an important milestone in the development history of China's internal combustion engine industry.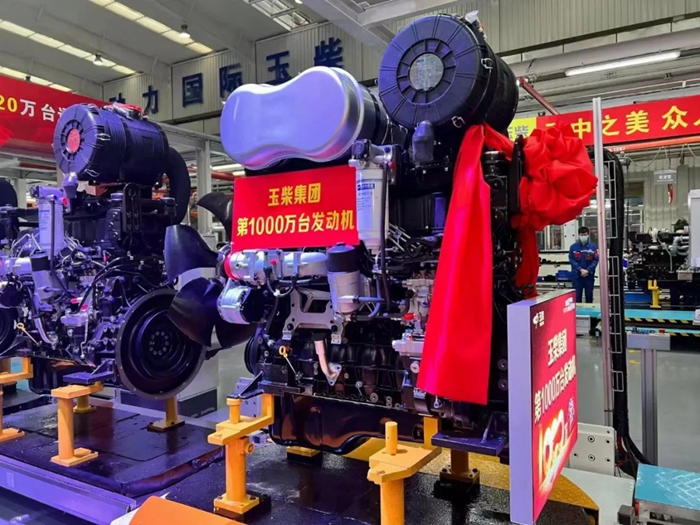 This year is the 70th year of Yuchai since its establishment in 1951. Over the past 70 years, Yuchai has always remained true to the original aspiration and pursued self-reliance and diligence, growing from a handicraft workshop to a well-known brand that stands among the national industries of China. Yuchai has also continuously expanded its "circle of friends" and won the praise of Premier Li Keqiang that "great things may be done by mass effort".

The 10 millionth engine of Yuchai is YCK16 diesel engine with the displacement of 16L, the power of 560-775 hp and the reliability life over 25,000h. As an off-road engine with the highest horsepower in China for construction machinery, this model is a high-end heavy-duty engine specially developed by Yuchai for large silage maize harvesters, cotton pickers, mine trucks, mining excavators and other applications.
At present, the YCK16 diesel engine can support the machinery manufactured by Shaanxi Tonly, ZOOMLION, Shandong Pengxiang, World Group and other manufacturers and has been put into use in small batches, breaking the long-term monopoly of imported brands in China's heavy construction machinery and agricultural machinery market. With the development of various types of large-scale off-road machinery, YCK16 will embrace a more broad market prospect, and its sales are expected to reach 15,000 units by the end of the "14th Five-Year Plan" period.

2021 has seen Yuchai's breakthroughs in core technologies and remarkable achievements in market development. Up to now, Yuchai has put a total of over 220,000 CHINA VI products on the market since the release. Among them, the sales in 2021 have reached 150,000 units.